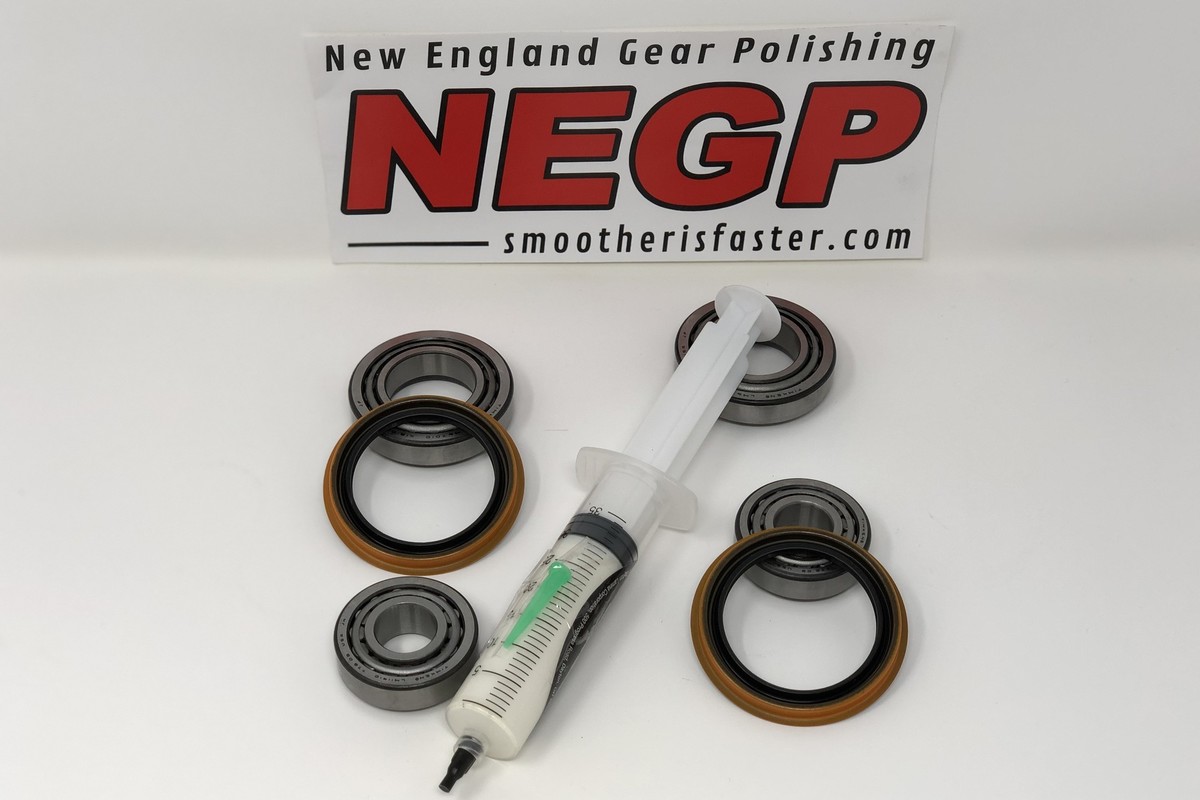 The new SIF (Smoother Is Faster) bearing, grease and seal line is ready!
Ever watch a really nice car get rolled around a garage or a pit area by one person EASILY? Ever wonder what it takes to reduce the friction in the wheels and driveline to be able to do that? This is what NEGP does with our REM finishing process.
You can read in our other services sections what we do to transmissions and rear ends to reduce drag and cut operating temperatures. At NEGP we do this work all the time for hot street cars, serious race cars, truck and motorcycles of all types. The reduction in horsepower loss through friction elimination, the lowering of operating temperatures, and the ease of shifting all result in improved performance and better reliability.
NEGP also does bearings of all types for your front end, differential, and transmission. However, up to this point, we have relied on you to send us your bearings to REM finish and that's not always practical. So we now offer the SIF line of REM finished wheel bearings, low drag grease and low drag seals for the front ends of the cars you drive on the street and track. The kits are designed for your stock spindles. Just change the bearings, seals, and grease with these high-quality parts and feel the drag disappear. We have these bearings and kits on our shelf and ready to ship NOW!
We start with PREMIUM NAME BRAND OEM QUALITY BEARINGS ONLY... no knock offs from you know where. Then we do our NEGP REM process to the bearings and races.
For a lubricant, we offer DAYLUBE low drag grease. This grease is used by racers in NASCAR, NHRA, etc. It is the latest nanoceramic technology. It does not change viscosity no matter what temperature it is at. We provide it in a small injector and it is enough grease for both front wheels.
Seals - this is an area where NASCAR shines. They have special low drag seals made for them and them only. NEGP has stepped up and engineered our own line of low drag seals for everybody else. So far we have seals for certain Fords and Chryslers. GM and AMC are in the works.
You can order 4 - SIF bearings and races only, SIF low drag grease only, or a kit containing both. We also have kits that include all the above with OEM seals, and kits with low drag seals (where available).
Take a look at our Current Listing below - if you don't see your car listed, contact us. The kits listed fit the cars listed, but there are subtle differences for certain 6-cylinder cars, brake diameters, etc that we can cover but are not listed on this general offering list.
Keep watching us for bearings for trailers, rear axles, and wide five kits...
Gallery
SIF Low Drag Bearing Kits
Back to Services