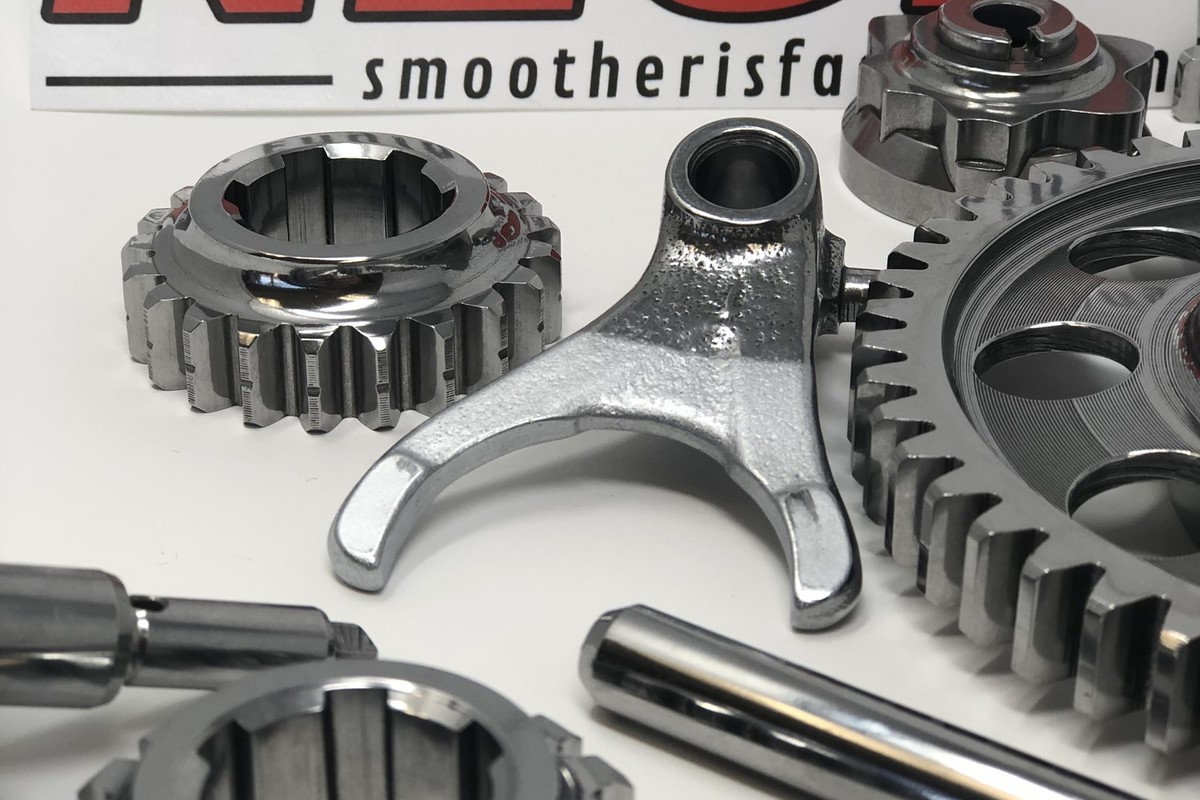 NEGP micro polishes all the moving parts in the engine. We can do many (but not all) crankshafts and connecting rods. We do all cams and valve springs and drive gears. Our process will lower operating temperatures by cutting drag. Engines rev quicker in many cases due to the reduced friction.
Transmissions are a specialty of NEGP. Whether street or off road, our prepped transmissions shift easier. The reduced drag means more hp to the rear wheel with Motorcycle transmission polishing.
REM® Surface Engineering and the motorsports industry share a common goal – achieving a "winning" finish every time. Motorsports components operate at extreme speeds under high torque requirements. These parts experience extremely high temperatures and parasitic friction. These two conditions lead to over-heating, significant horsepower losses, and, ultimately, catastrophic metallurgical failure of interacting metal surfaces.
ISF Part Performance Benefits:
Reduce Friction
Increase Efficiency
Increase Effective Horsepower
Increase Power Density
Lower Operating Temperature
Extend Component Life
Reduce Lubrication Requirements and Cost
Reduce Metal Debris
No Break-in Required
Increase Part Durability
Reduce Drivetrain Loss
Motorcycle Transmission FAQ's
What parts do you actually finish in the transmission?
We want the shafts, the gears, the shift drum, the shifter forks and any shims or other parts that spin in the transmission.
How do I send the transmission to NEGP?
You need to completely disassemble the transmission and clean it off well enough to ship. There are snap rings that hold some gears on the shafts - you need to remove those. The whole box will not be very big and should weigh about 18 pounds for most bikes. We get transmissions shipped to us from all over the world and as long as the box is sturdy, well packed and taped fully - we get it in one piece. Customers ship to us using UPS, FedEx, DHL or USPS. REMEMBER TO INCLUDE YOUR CONTACT INFORMATION IN THE BOX.
How long does it take NEGP to run my transmission and send it back to me?
We run 3 to 5 business days for average turn around time. When we receive your transmission, we will text you to let you know we got it. Then we completely clean it and do a cursory inspection of the parts for chips or nicks. Anything we find we will report to you before we proceed. If we don't find anything wrong, we do the micropolish process, then rust inhibit the parts and re-package them for return. We normally ship back using UPS. We will calculate the shipping charge and contact you for payment by creidt card at that time.
What does this cost?
For any motorcycle, Legend Car, ATV or side by side - the cost is $262.50 plus return shipping.
"The quality of the work done was outstanding! I have sent several vintage Honda motorcycle transmission gear sets as well as crankshafts, rods, camshafts, and all other valvetrain related components to New England Gear Polishing. Everything I received back is impeccable! The quality of the work done was outstanding! Also, all parts for my customers were kept separate and organized as it pertained to separate jobs. Even the quality of wrapping and packaging the parts for shipping was second to none. The gears when assembled on the transmission shafts slide and move like glass now. When competing on any level options such as superfinishing gears, springs, cranks, camshafts, and shifting components should not be overlooked or underestimated!! My customers regularly respond with, 'WOW, What a difference!'" - Nathan H.
Gallery
Motorcycle Transmission Parts
Back to Services